Walking holiday - gîte to gîte
"Rambling in the Cévennes - Valley of the Springs"
Price 465€ per person

all inclusive
Guided Walking Holiday in the Cévennes mountains, at the foot of Mont Aigoual, near the walk made famous in
 "Travels with a Donkey in Cévennes" (R.L. Stevenson)  
5 days, 4 nights/4 hikes from:
21st to 25th June and 10th to 14th September 2018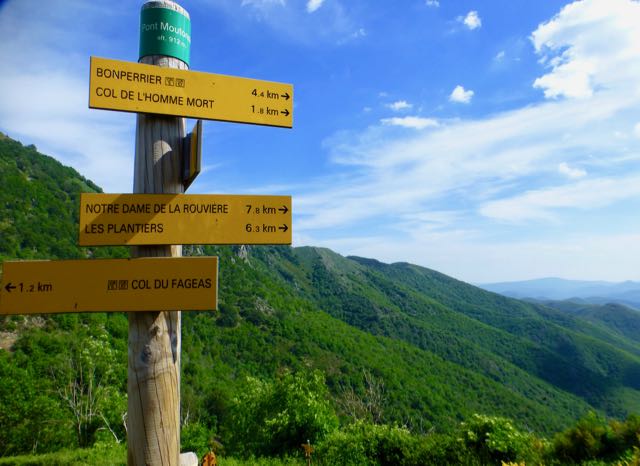 Alone, as a couple or with friends for accomplished hikers (walks on average 18km per day and 650m climb).
Experience this sunny, magnificent and wild region! Yann, a qualified mountain guide, will guide you in a small group (between 4-8 people), on quiet, hidden tracks for you to experience a total immersion in this land so rich in fauna and flora and which he is so passionate about.
Yann will share with you his passion of this land with its exceptional religious and social history and his best kept secrets of the region. He will inspire you with his passion of this very special and secret place in the Cévennes where he lives !
 
You will stay in a different gîte, auberge or bed and breakfast each night and enjoy a warm welcome from your hosts who are passionate about the Cévennes. We will spoil you with delicious meals made from local seasonal produce and you will be encouraged to relax each evening and recuperate before the next day's hike. Your luggage will be transported for you each day.
Conviviality, fabulous views, history, nature and a glorious welcome with delicious meals using local produce in the Valley Borgne
If you are interested and would like to know more about this holiday or how to book, please do not hesitate to contact Yann on +33 (06) 48 79 56 96 or by email: yann.morizot@yahoo.fr
N.B. This holiday is for a minimum of 4 and a maximum of 8 people.
For full details please download our Word document here Details of Walk in Valley of the Springs